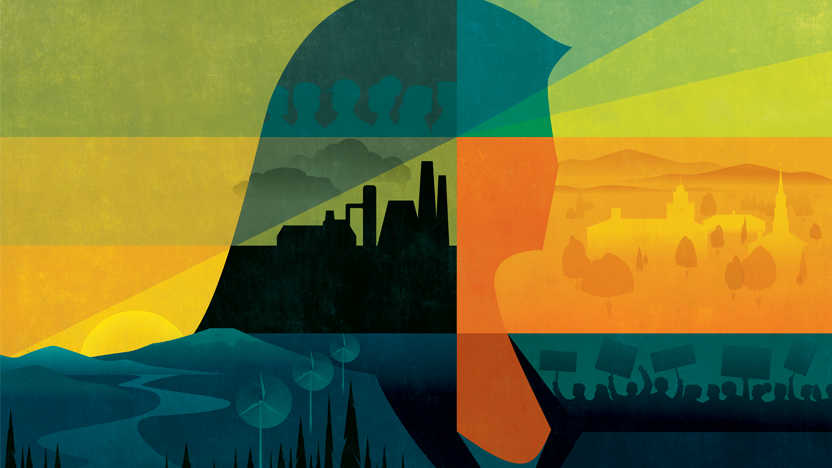 I organized my first symposium!
Radical Implications — The climate crisis confronts each of us with urgent questions and bewildering choices about what to do, what to learn, where to go, and who to be at this momentous historical crossroads. In this Clifford Symposium, we will bring together students, faculty, staff, and the wider networks of which Middlebury is a part to discuss our roles as we face increasingly turbulent futures. What can, and should, college be offering to young people as they prepare to join this pivotal moment? How are we all reimagining our disciplines, our communities, our futures? What does it mean for our students — from dancers and economists to marine biologists, elementary school teachers, and computer scientists — to be coming of age in an age of planetary crisis and transformation? And what would an education that is proportionate to the radical implications of the climate crisis look like?
Here's a quick sketch of the programme (and here's the full thing):
Hostile Terrain 94
Jason de Leon's powerful and haunting exhibit, Hostile Terrain 94, will be installed in McCullough, with opportunities for people to offer reactions and reflections (via sticky notes, writing, drawings, etc.)
Panel Discussion — 350.org Reunion
Bill McKibben joins the other co-founders of 350.org (all Middlebury alums) to reflect on the past decade of climate activism, on successes and failures, and on what's changed (and what hasn't, and what must) in the climate movement.
Keynote — Sarah Jaquette Ray
Sarah Jaquette Ray, author of A Field Guide to Climate Anxiety and co-creator of the Existential Toolkit for Climate Justice Educators, will address the powerful emotions inherent to facing the climate crisis and how to navigate them.
Panel Discussion — Faculty Perspectives
Carolyn Finney joins an interdisciplinary group of Middlebury faculty to discuss how they are grappling (not always successfully) with the radical implications of what is now unfolding.
Keynote — adrienne marie brown
adrienne maree brown, author of Emergent Strategy and Pleasure Activism, and co-host of How to Survive the End of the World, will conclude the first day of the symposium by addressing themes of activism, movement strategy, and social change and transformation.
Keynote — Jane McAlevey
Jane McAlevey, legendary labor organizer and author of Raising Expectations, No Shortcuts, and A Collective Bargain, will share her analysis on what the fight for climate justice can learn from the legacies and continuing struggles of the labor movement.
Keynote — Mary Annaïse Heglar
Mary Annaïse Heglar, climate justice activist, writer, and host of the Hot Take podcast and newsletter, will address the experience of coming online as a young person into such an outrageous situation.
Panel Discussion — Arts & Humanities
A group of Middlebury arts and humanities faculty join together to discuss their perspectives on and approaches to making sense of, relating with, and intervening in the many compounding urgencies intersecting around the climate crisis.
Student Perspectives
In this student-organized event, students themselves will share their own reactions to and reflections on the big questions that define the themes for this symposium; student organizers will help connect these big questions to traditions of activism on this campus and ways of getting involved.
Keynote — Julian Brave Noisecat
Julian Brave NoiseCat, member of the Canim Lake Band Tsq'escen and a descendant of the Lil'Wat Nation of Mount Currie, is a writer, journalist, and activist. His keynote will conclude the second day of the symposium by helping us connect the dots brought together in the climate crisis (and by this symposium), taking stock of how we got here, where we are, and where we must go (and who is this "we," anyway?).
Social Gathering
This social event will make space for attendees to blow off steam after engaging with the symposium's big topics.
Living Life at the Knoll
The Knoll will provide an intentional space for socializing, enjoying the day, and getting on with the task of living lives amid planetary turbulence and transformation.